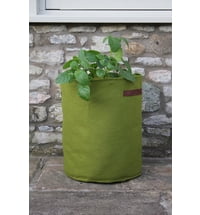 Vigoroot Potato and Tomato Planter
7 left in stock
The Vigoroot planters are not ordinary planters. The unique Vigoroot tissue will help you to grow stronger, healthier plants. Rumor has it that Jack used the Vigoroot system to grown his beanpole.
The magic of the Vigoroot planters comes from their ability to allow air to get to the roots of the plants, thus promoting a more vigorous root formation and a higher nutrient uptake. It ensures that the plant can grow to a much bigger size in a relatively small pot. The super-strong root system also helps the plants to be more resistant to harsh weather and diseases.
The Vigoroot plant bags are reusable and are easy to fold up and store.